Our Team
Suparna Pathak
A content strategist and an experienced media professional with a passion for weaving words, Suparna is regarded as a pioneer in modern business journalism in the Bengali media. An eloquent and proficient writer in both English and Bengali with 40 years of experience, he is also known for his astute and incisive analysis of government and corporate policies and is a regular presence at seminars organized by national level chambers of commerce and international organisations.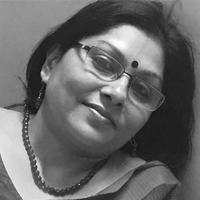 Shubha Pathak
An articulation capacity builder, Shubha has 36 years of experience in teaching English at reputed schools in senior classes. Her expertise in creating articulation capacity is also sought after at various organizational levels, including corporates. She excels in turning a communication deficient, articulation averse team into go-getters. She believes language is the soul of our thoughts. And one doesn't exist without the other. Creating articulation capacity is nothing but releasing a skill that we are born with.
Suvobrata Ganguly
A strategic image and content connector, Suvobrata brings 30 years of experience in the field of communication to the table. Known for his ability to create the right platforms for creating effective target-based connections, he is credited with helping niche brands break ground even in the global markets. Internationally known as a fountain pen collector and blogger, he has also helped one Indian fountain pen brand find a market in the USA which is considered a pioneering and record-breaking act.